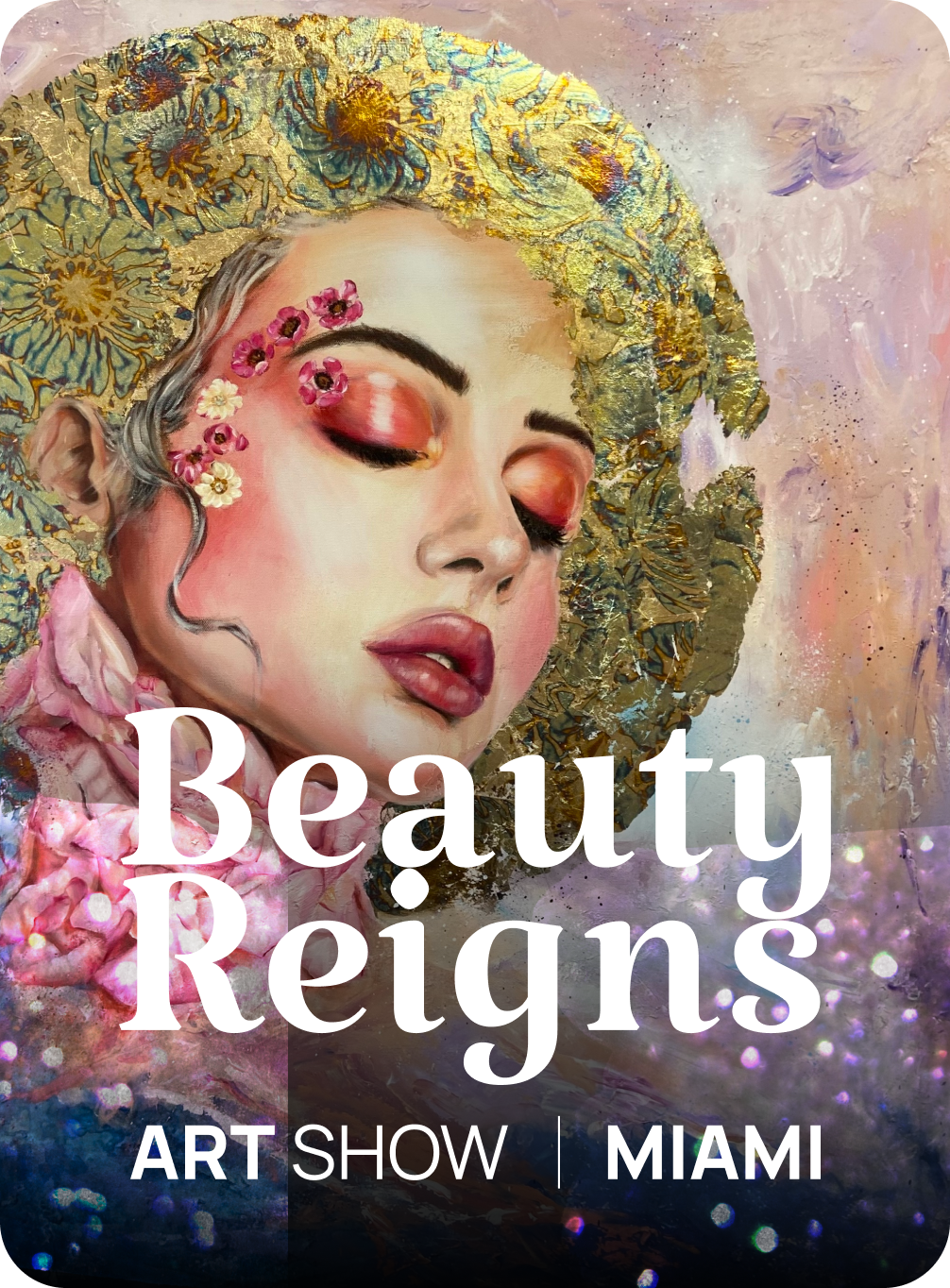 You're Invited to experience an evening of beauty and fine art


The Milan Art Experience
Presents:
'Beauty Reigns'
October 6th & 7th
6:00 PM - 9:00 PM
The House of Arts - Miami
Join our Newsletter to get the latest updates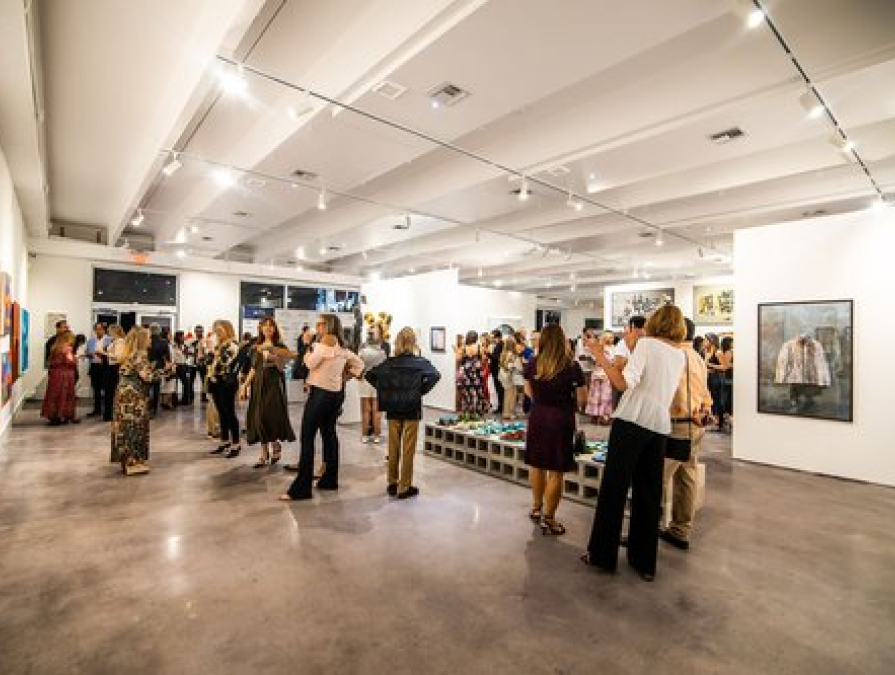 An Art Experience Where Beauty Reigns
Experience breathtaking art from our VIP artists & the Milan family.
Hear from Elli Milan as she speaks about the power of art & the way she has experienced art create real change.
October 6th & 7th - from 6:00 PM - 9:00 PM
The House of Arts - Miami


100 NW 36th St, Miami, FL 33127



Bring your friends & art lovers. Drinks will be served.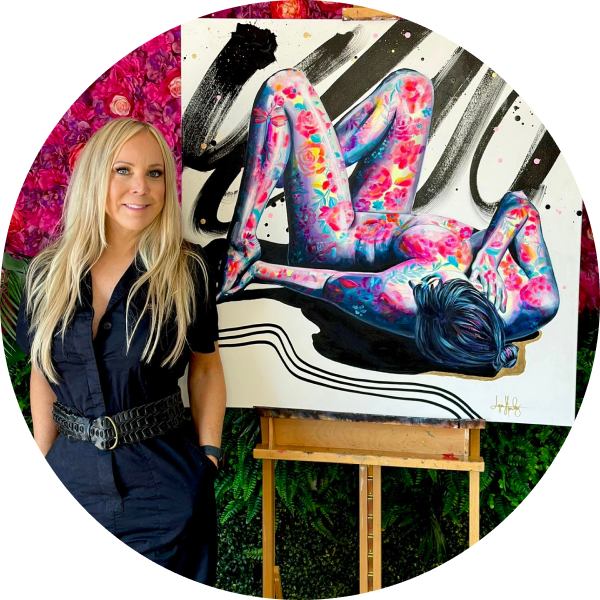 Through my art, I hope to convey the complexity and beauty of the human experience. Each piece captures a specific mood, carefully crafted to set the tone. Drawing inspiration from randomly selected book sentences, I ignite my creations with their energy. My paintings explore the essence of humanity, especially celebrating the female form. By blending nature, spirituality, and emotion, my work seeks to deeply resonate with viewers, inspiring a fresh perspective on the world.
"Use your art to celebrate the human experience, where each brushstroke echoes the depth of emotions, every color tells a story, and the canvas becomes a tribute to the beauty and complexity of being alive."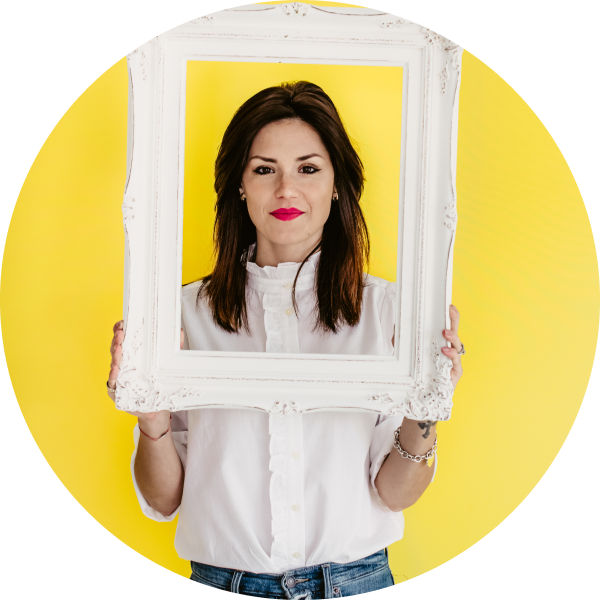 As an artist, I strive to create works that capture the essence and the beauty of living life to its fullest. Through my paintings, I hope to inspire others that we all have the power to create our own destiny and become the best version of ourselves.
Working in mixed media allows me to build up layers, adding a lot of mark-making that represents leaving our mark on this world by realizing our full potential.
Exploring the contrast and balance between stillness and directional intentional movement, my subjects are surrounded with the white background which is a big symbol for me of putting yourself in the spotlight, not being afraid and becoming a protagonist of your own story.

"We are here to exist loudly, dream big and live our life to the fullest".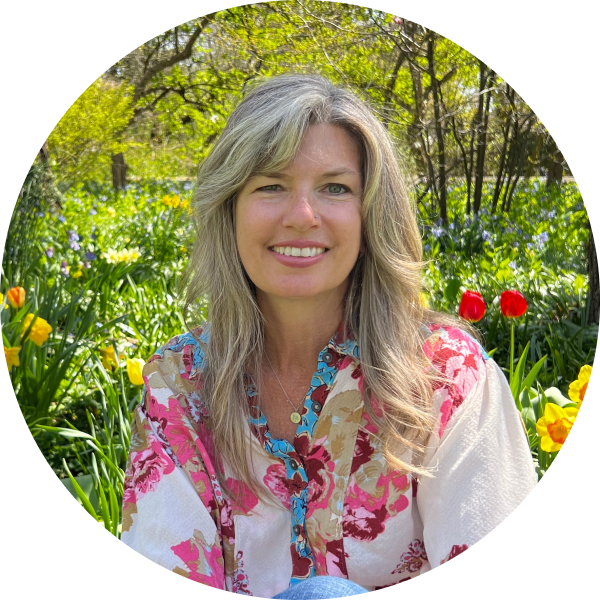 Stephanie Linden comes from a family of artists and artisans. Art has been a lifelong passion and after a full career as a physician, she felt compelled to pursue her artistic dreams.
She is a graduate of the Milan Art Institute and is enjoying her life as a professional artist. She has a gift for using color and light and showing sensitivity toward her subject matter. She uses dreamlike images to show the realms of possibility.
She splits her time between her studios in Sarasota, FL, and Farmington Hills, MI.
"I seek to show the power of light and color to illuminate the realms of possibility."
As an avid traveler, I have witnessed the beauty of nature and urban scenes throughout the world. These travels have inspired me to create paintings that portray connections I discovered both within nature and in myself. In my art, I harmoniously blend soft subtlety with powerful expressions, forging a dynamic contrast that captivates your senses.
I invite you to look at my art from different distances. You'll find abstract marks, textures, and phrases at short range. From a distance, you will experience an intricate interplay. Join me on an immersive journey, exploring each layer of my multifaceted creations.

"Be fearless in the pursuit of what sets your soul on fire"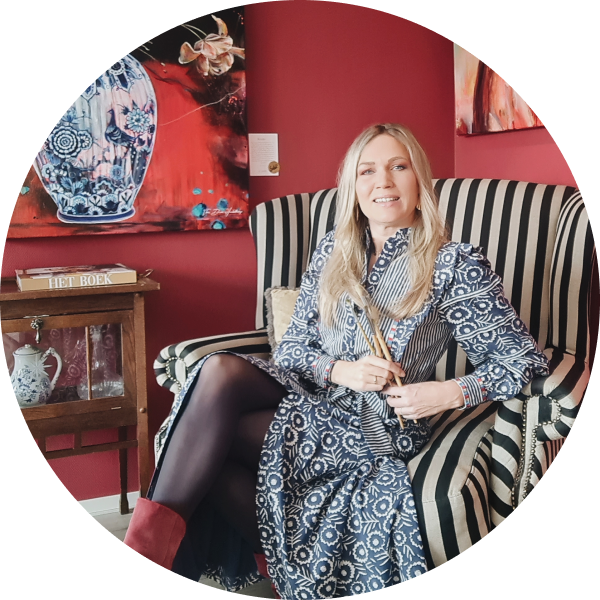 Nicolette van den Hadelkamp
My art is a reflection of the beauty, wisdom and love inside us, the things we can't see with our eyes but feel with our hearts. I believe by experiencing this divine love, we are all connected by heart. Through my art I want to remind people of this divine connection and love. That my art may be a inspiration to lift each other up and to be the light to remind others of their own light. I want my art to spread around the earth so it can form a strong web of love and connect us all.

"Surrender to the divine plan that is perfectly created for you"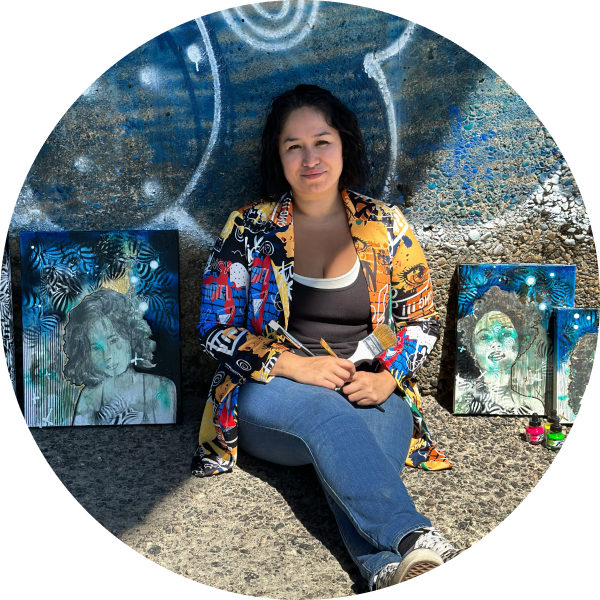 Stefanie Angelina Allison
Angelina was born and raised in Washington State. In the Wenatchee national forest is where she built a home and raises her family. During her education she excelled in art, studying Graphic Design, Illustration, and Fine Art. Then she decided to further her education at the Milan Art Institute.

Angelina is concentrating on the mastery of abstracted realism and enjoys the process of building up layers to create dynamic depth in each one of her pieces. In an art creation, it is typical for Angelina to put over ten layers. Angelina uses nature's beauty to influence and inspire her art.

"Creating magic with spiritual, cultural, graffiti art. "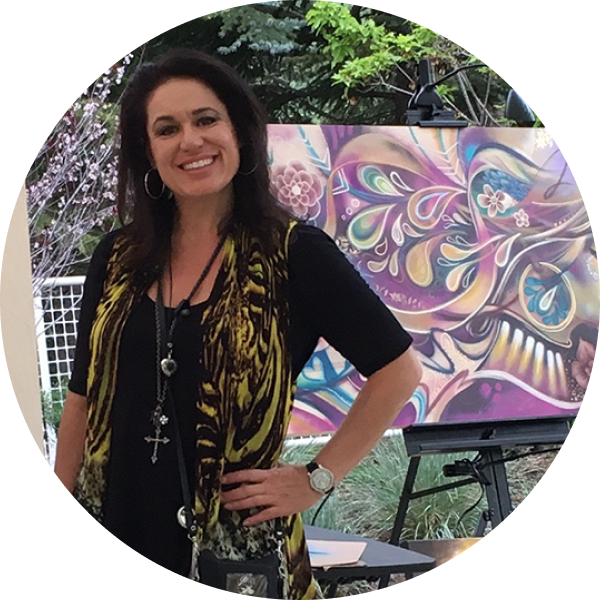 I express the soul's path to freedom from bondage. I explore the transformative power yielded via relationship with the Divine while thriving brilliantly through visual messages of deep abiding love.
Combining realism with abstraction, I seek to bring clarity where there was once confusion. Light and details are placed within shadows, emulating the power that pain has to transform, reveal and enlighten.
Emerging woodgrain reflects the many layers of being human and the seasons in which life brings. I explore relationships with the Divine Creator using mixed media, oil & airbrush, which keeps me connected to my urban graffiti art roots.
"Painting is truly an act of worship for me and keeps me connected to my urban roots as the first female graffiti artist on the west coast, which is pure joy!"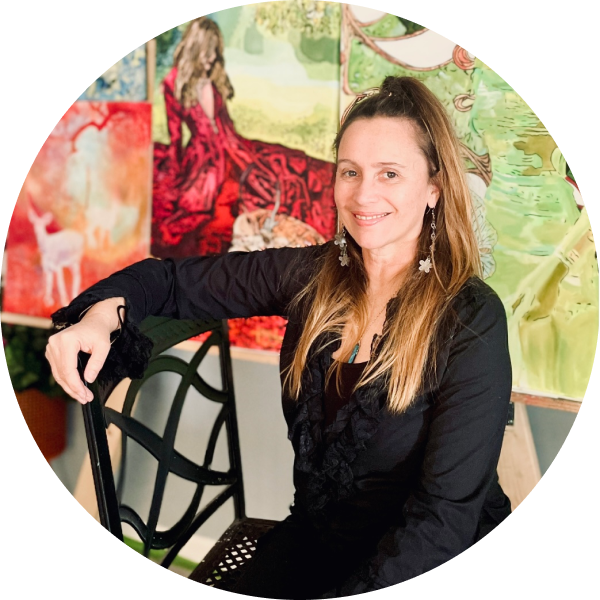 Tanya comes from a family of multi-generational musicians and artisans where creativity and creative expression was always encouraged and promoted from an early age. She clearly recalls her first day at preschool where she spied big trays of paint being laid out. She hastily ran to enquire what the purpose of those juicy, wet puddles of color were. When told that she could put her hands in the gorgeous shimmering goo and make finger paintings she was completely mind blown at the colorful freedom and abandon that implied. Tanya feels this memorable experience connected her inexorably to her future destiny, passion, and purpose as a painter.
In 2001 her previously haphazard pursuit of learning to paint became a determined focus when she joined an online, non-traditional, right-brain art school. From that time to this she has passionately pursued art making and is always pushing the boundaries and limits of her skillset through practice, continuing education, and theory. Most recently Tanya completed the Milan Art Institute's year-long, Mastery Program in 2021.
Tanya sees each new painting surface as a full-on challenge, a gauntlet, an opportunity to create something fresh and memorable for both herself and her wonderful collectors in her unique and emerging style. She likes to depict aspects of feminine beauty, the power of divine connection, of nature and epic tales of renown, real or imagined through paint and other mixed media.
A native New Zealander, residing in the USA, Tanya has had the pleasure of living on both coasts with a stint in Hawaii too. She has a home studio and two 4 legged studio assistants. She loves exploring and traveling, spending time with her fur babies, friends, art tribe and family, and aspires to one day be an electric guitarist in a hallelujah rock band.
"Art is a very powerful language and expresses things that words cannot. Every time I pick up a paintbrush my aim is to become more fluent, more poetic, and more articulate with tools
and materials."
My art is about freedom and seeking one's own path. As I create I'm reminded that the next adventure is waiting around the corner. What will you find, learn, or crave in the experiences I paint?
I want my art to make you feel the energy and excitement of exploration in life's many wonders. My mixed media paintings incorporate collage, spray, acrylic, and oil paint in tableaus of richly colorful abstract backgrounds, combined with figurative animals, birds, sea creatures, and botanicals.
We are all part of the same universe—my vision creates harmony among all.
Be fearless and try something new everyday. Don't wait for life to find you.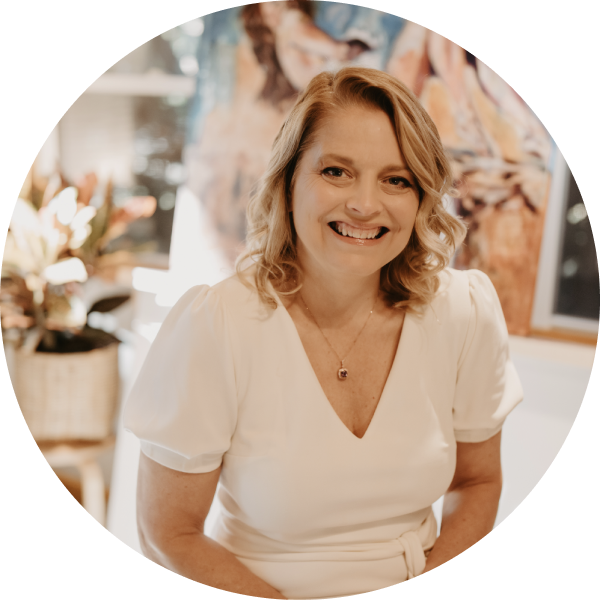 RS Art delves into the captivating realm of transformative abstraction, where colors harmonize with emotions, giving life to a vibrant symphony on canvas.
Inspired by the beauty of femininity and the essence of nature, my intuitive brushstrokes celebrate empowered women and the journey of self-discovery.
Each artwork becomes an invitation to explore the depths of introspection and connection. With boundless creativity and a touch of higher consciousness, RS Art aims to inspire and uplift, leaving an enduring impression on the hearts and souls of viewers.
"Where colors dance and emotions transform, RS Art celebrates the canvas of life."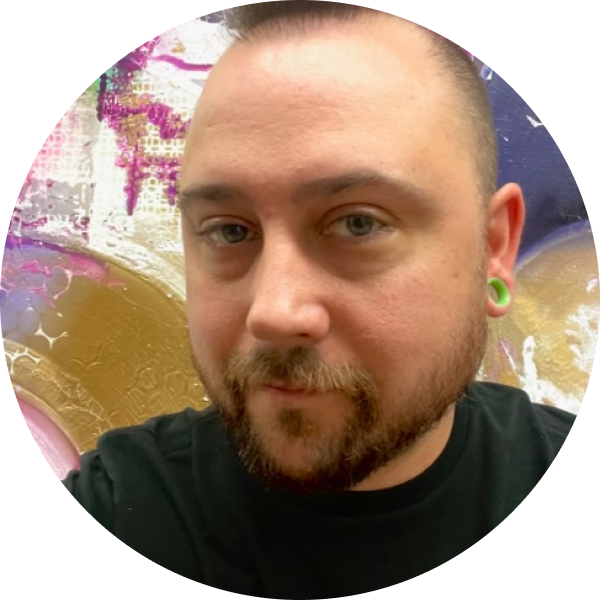 Allen Triplett is an abstract expressionistic painter with a flexible style that leans into realism mixed with a focus on experiences from Synesthesia. Allen studied at the Milan Art Institute and is now working as a professional artist based out of beautiful Palm Springs California.
Allen Triplett's story is a story of survival and overcoming. A story of how to cope with the uncertainty that life throws at you. Art is what helped him find his true authentic self during times of loss and hardships. His mission is to help share healing through art. Art celebrates the power of the human spirit.
"Why you tryna put me in the ground?
Don't you know I'm a seed?
I won't stop at the root
Go ahead, bury me
This is how I grow, it's how I thrive"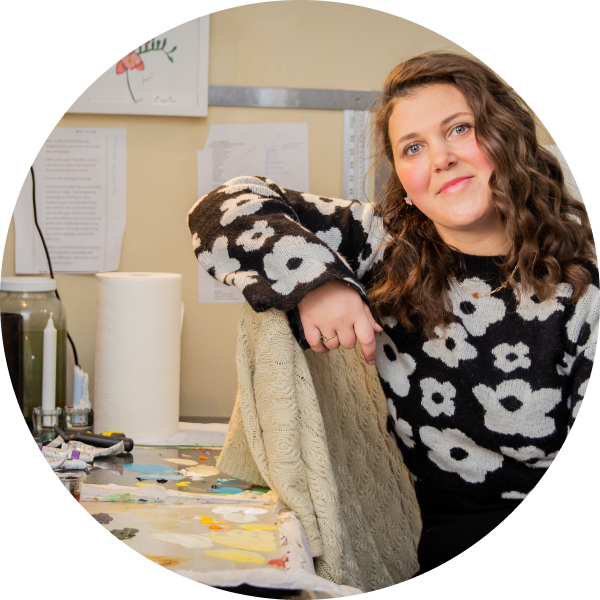 I believe simplicity is beautiful. I believe that things don't have to be loud to stand out. My artwork represents hope, growth and freedom, free to dream big, free to be you and me and free to do the things you love.

The white on my canvases represent the negatives that were in my life, what my life was before I found my artistic freedom, from the people saying you can't, to my own voices inside telling me I'm not good enough and any barriers that were holding me back. The flowers, colours, patterns and natures beauties breakthrough the emptiness emulating growth and emerging out of that cocoon. All of nature's creations no matter how small make an impact on the world.

I bring simple beauty to the canvas. Butterflies flutter quietly and look how beautiful they are. Bees are small and look what they can build.
I want to show the world that you can do it and to shine bright on the cloudy days because there is always light somewhere if you take a moment and look.
"I love to spread joy and hope one flower at a time through my art"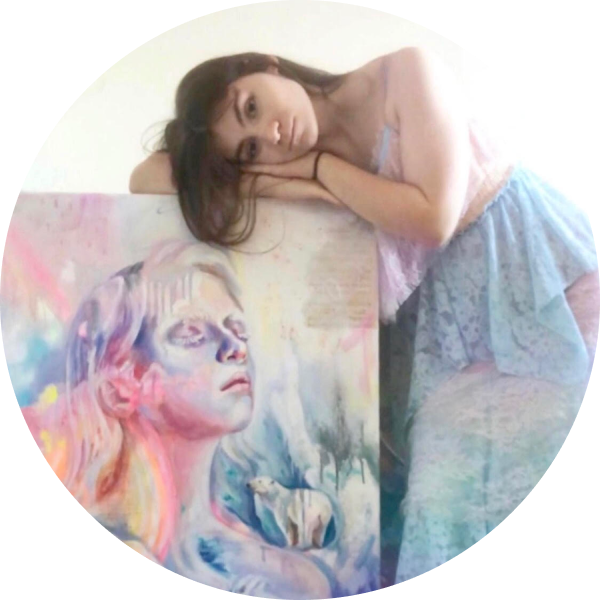 Creating a feeling of deep connection and harmony between human, animals, and nature is my heart's vision. In my life, I'm in a stage of exploration and self-growth. Having been hidden from the world for many years, I'm now free! Art is my tool to share these wondrous moments with the world.

Frolicking through nature, pondering my own thoughts, and exploring the hidden beauty of this world is what fills my soul with life and inspiration.

My paintings combine the imagery of animals and people in nature with comforting warmth and delicate dreamlike style. Showcasing their unbreakable spiritual and purely raw natural connection.
"Each brushstroke is a footprint closer into divine discovery"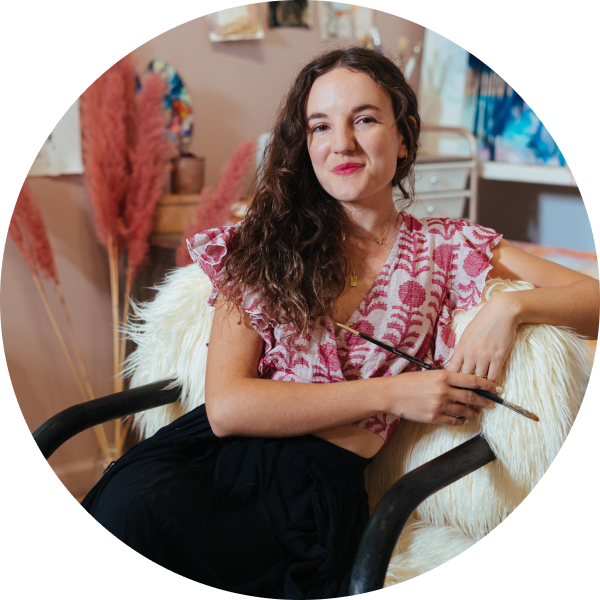 From taking classes at her parents' art school at 11 to becoming a prodigy painter with her debut gallery showing at 14, Dimitra Milan rapidly emerged as a compelling force in the art world. By 16, she'd garnered over $1M in art sales. Today, Dimitra's abstract realism, laden with deep symbolism and romantic undertones, captivates audiences worldwide. As a co-owner of Milan Art Institute, she empowers budding artists with online courses. Passionate about charitable work, Dimitra actively supports anti-human trafficking initiatives and children's cancer charities. Based in Florida, she frequently travels, drawing inspiration globally.
"I'm inspired to paint beauty, and to bring more beauty into this world. the world desperately needs more light and truth. I hope my art inspires people to follow their own dreams and pursue their passions. I want my art to touch a deep place in people, and bring them into a higher mindset."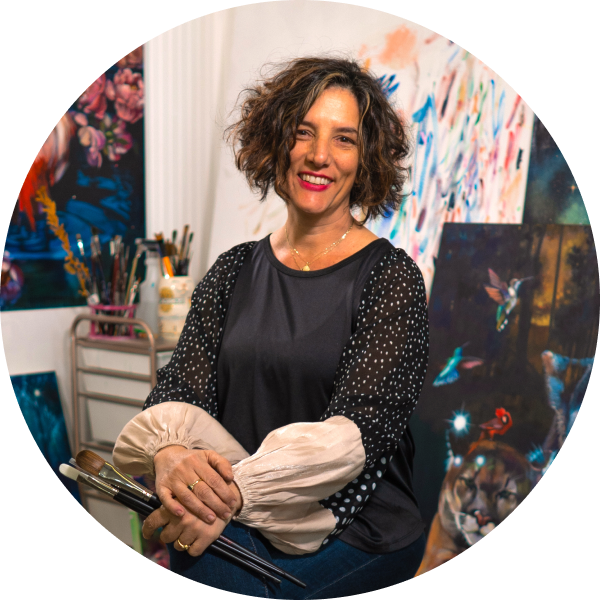 Elli Milan is a renowned artist with a career spanning over two and a half decades since 1996, during which she has sold an astounding 10,000+ artworks to discerning collectors globally. In 2010, impassioned to empower a new generation of artists with her hard-earned wisdom, Elli founded the Milan Art Institute. Since its inception, the Institute has transformed the lives of over 6,000 artists, guiding them from passion to profession.
Elli's art serves as a portal to a transcendent experience. Her paintings don't just decorate a space; they envelop you in an ethereal aura of light, ushering you into a realm where destiny unfurls and life is lived on a grander scale. As Elli profoundly puts it,
"Life is meant to be lived abundantly, triumphantly, and outrageously romantic! The things that make your spirit leap, your heart swell, and your soul dance—these are not just things to yearn for, but to live for."
Be part of the burgeoning Art Renaissance; elevate your collection and your life with an original Elli Milan. Each piece is not just an investment in art, but an investment in possibilities, in destiny, and in you.