Ready to Level-Up
Group and Personal Artist Mentoring
Learn from a successful artist so you can get where you want to be.
All of our mentors are professional artists and professionally trained in the art of mentoring.
Each mentor is dedicated to helping you achieve your artistic dreams because they went through the same process as you.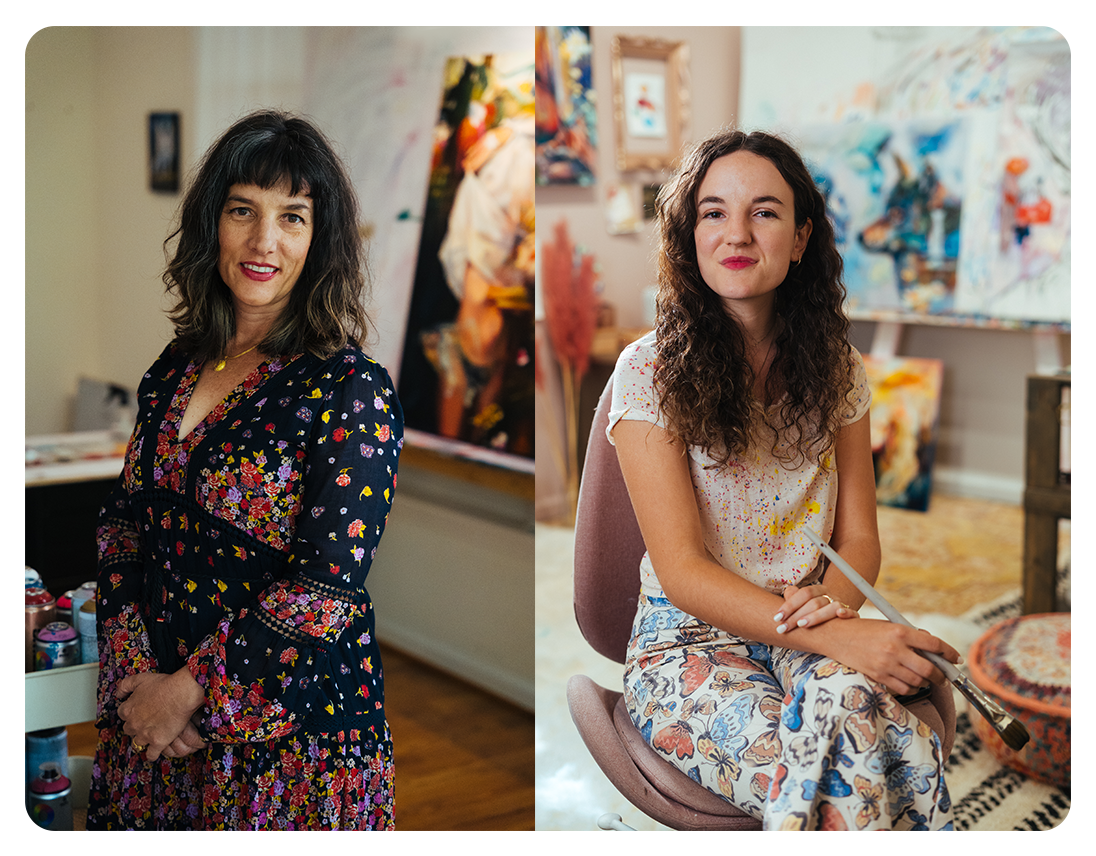 Why You Need a Personal Artist Mentor
Save time and errors
Our mentors have been where you are and where you want to be. Don't waste unnecessary time making mistakes when you can learn from someone who's already made them for you.
Get next-level accountability
You might already have an idea of where to go with your art—and if not, that's okay, too—but you need the sort of accountability that you only get when you pay someone for it. With Art Club Pro, you're tapping into a strong support system that will ensure you achieve your goals.
Fast-track your success
They say it's all about whom you know, and while you certainly can achieve whatever you set your mind to, it helps to have some friends who've been there before. Start connecting with the right people.
Personal critiques and dedicated support
Don't understand why you aren't getting your proportions right? Having a hard time mixing colors? Want to know the best art supplies to buy? Want to know how to sell more art? Our mentors are there to help you with all these questions and more, with answers you can count on.
If You're Like Most Artists ...
Then you've probably tried going to your local artist guild, taking local art classes, taking an online course here and there, or maybe you went to art school hoping that would help you start a career in art.
But you haven't gotten the results you wanted because you didn't have the proper support system in place and it wasn't tailored to your individual needs.
What you need is an Art Club Pro Mentor, an artist to listen to exactly what you're trying to achieve, and work with you until you get there.
The Fast Track to Success
Built for Mastery Program Students*
We've created Art Club Plus and Art Club Pro to help our students achieve the highest levels of success. All mentors are graduates of the Mastery Program and will help you through all challenges that you'll face as an artist so that you can become the artist you've always dreamed of being.
*Art Club Plus and Pro Mentoring is a separate subscription and is NOT included in the price of the Mastery Program.

Artist Mentoring is Exclusively Available through Art Club™


What's included in Art Club Pro?

Your Own Mentor

Access to the
Art Club Pro Library

Access to the
Art Club Library
(over 300 videos)

Unlimited Group
Classes Every Month

Join a Mastermind of
Artists with Similar Goals

Monthly contests
in 
Art Club
1. Choose Your Mentor
Choose your mentor or fill out our questionnaire and we'll match you with the perfect mentor according to your personal goals, time zone, preferred mediums, and language.
2. Introductory Call
You'll have an introductory call with your mentor where you'll dive deeper into your goals and devise a plan to achieve them.
3. Message Your Mentor Anytime
Message your mentor anytime and receive a response within 24 hrs, 6 days a week.
4. Dive Into Our NEW Pro Library
Dive into our Art Club Pro library of courses and level up your skills!
5. Connect
Get connected with your art mentoring community.
6. Get Feedback
Get real-time feedback and critique in monthly one-on-one zoom calls with your mentor.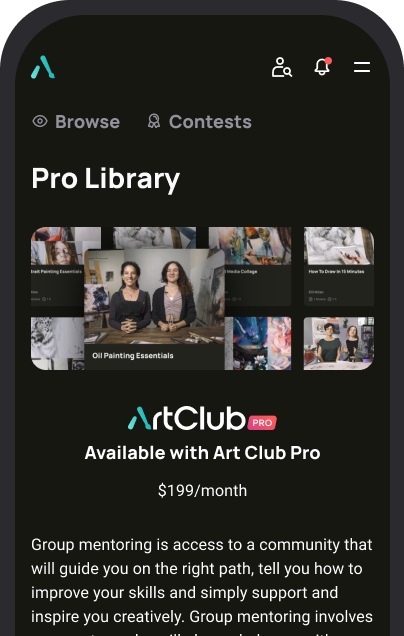 Group Mentoring
$99

/month
Access to Group Mentoring with 5+ Professional Artists
Tips and Critiques in Your Group
Feedback from Professional Artists
Monthly Mastermind for Artistic and Professional Growth
Unlimited Live Group Classes Every Month


Personal Mentoring
$199

/month

Your Own Dedicated Personal Mentor
Monthly Private Zoom Call with Your Mentor
Art Club Pro Library for Courses
Access to Group Mentoring with 5+ Professional Artists
Tips and Critiques in Your Group
Feedback from Professional Artists
Monthly Mastermind for Artistic and Professional Growth
Unlimited Live Group Classes Every Month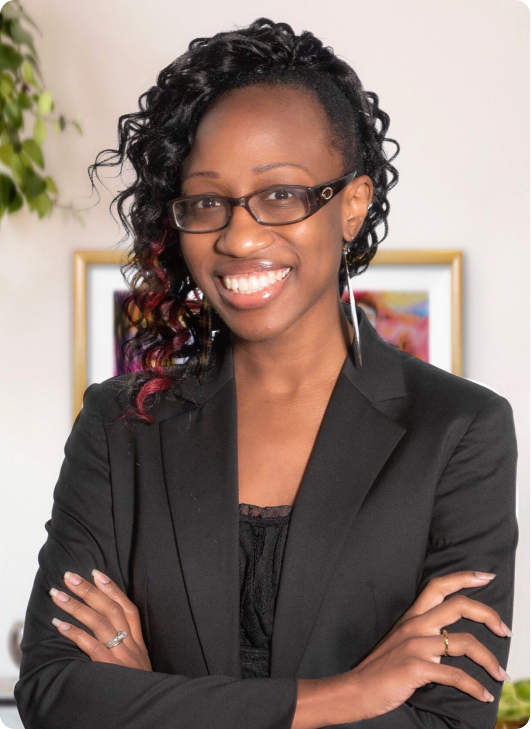 Zybrena Porter
Milan Art Mentor
Zybrena has been in love with the arts for as long as she can remember. As a mixed media oil artist, she draws inspiration from her own story as well as the stories of other women she's come to admire. Zybrena's driving force in creating her art is her unceasing desire to challenge viewers to see their inherent value and pursue their passions. As a mentor, she seeks to provide that same opportunity to aspiring artists around the globe.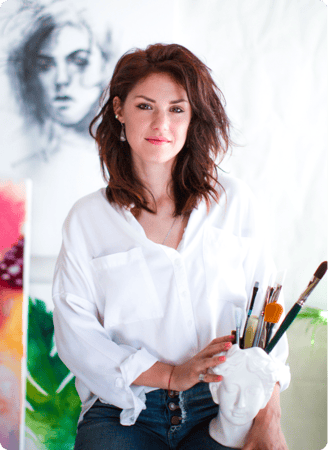 Rita Vicari
Milan Art Mentor
Rita has been creating as long as she remembers. Her art took different forms – from poetry and dance choreography she found her way to painting. Rita graduated the Mastery program in 2019 and has been a professional artist since. As a mentor Rita tries to find a unique approach to each student helping them to uncover all the possibilities and abilities each one of them holds. Encouraging and supporting along the way but going to the core of each student's voice Rita helps students to find unique ideas and ways to execute them.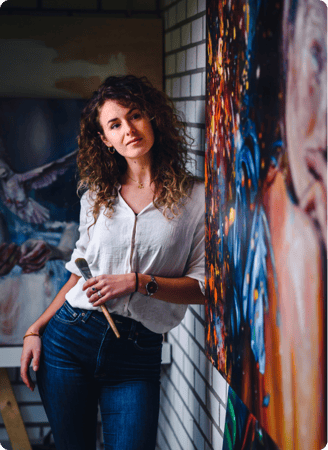 Melissa Burghardt
Milan Art Mentor
Melissa Burghardt is a professional artist from the Netherlands and has been developing her style since she graduated in 2019 at the Milan Art Institute. She firmly believes that it is important to jump before you are ready, moving to new levels will always feel a bit scary. As a mentor she has a lot of patience, nothing is too crazy, and she believes that everyone has the strength to succeed.
'We can help you build your skills and grow your mindset. Every person has its own beautiful voice, we just need to find it.'

Asia DeVore
Milan Art Mentor
Asia has been expressing herself through art from a young age and attended the Milan Art Institute, on-site, in 2017 where she was introduced to a new world of creative freedom and skill that ignited her burning passion to create full-time. Asia's work conveys a duality of light and dark, raw and refined, striking and soft aesthetic that invites the viewer into a captivating and intentional moment of self-reflection. To communicate her visions, Asia uses a mixed media approach, utilizing an array of mark-making, drips, and brushstrokes to project the atmospheric energy before refining her work with oil paint. Asia's studio is located in the greater Phoenix area and her goal as a mentor is to empower other artists to realize their true voice, in confidence, to bravely share their unique perspective on canvas in faith that the rare offerings will assuredly change the world one painting at a time.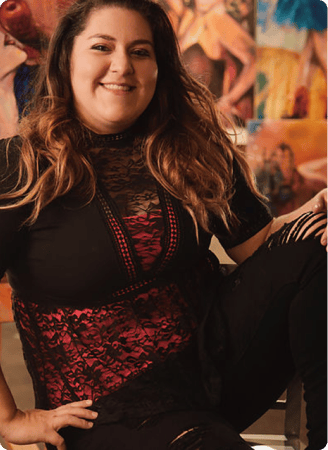 Brie Bordeaux
Milan Art Mentor
Brie has been exploring the creative arts her whole life. Never wanting to be confined to one thing she kept searching for who she was and what she could show the world. It's through the Art of Mixed Media that she found her true identity, a place where she can be completely herself and free from any boundaries or limitations. Her art is a mix of abstract realism, urban pop art and a bit of fiery emotions all mixed into one. As a Mentor Brie is determined to help her students find their truest selves and bring their creative passions to life!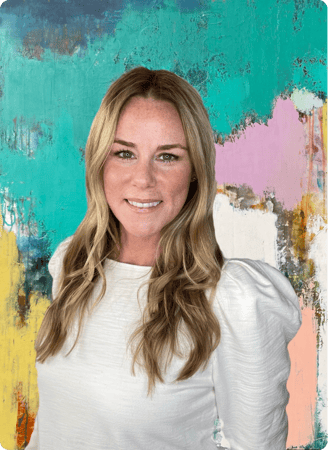 Casey Wakefield
Milan Art Mentor
Casey Wakefield completed the Milan Art Institute Mastery Program in 2018. While enrolled in the program, she fell in love with the creative process and abstract paintings. During that time, she found her voice and now creates color impressions in abstract form through contemplative transformation of color, drips, and marks onto canvas with mixed media and oil.
As a mentor, Casey enjoys sharing her experiences, tips, and encouraging students to accomplish their goals and dreams of becoming a professional artist.

John Milan (AKA DJ Freezy J)
Milan Art Mentor
John Milan has been a professional artist for the past 25+ years, also co-founder of the Milan Art Institute. John enjoys many aspects of art and sales. John encourages others to find their unique process, and style in art, creatively. He can answer most questions fully with vast knowledge and years behind the paintbrush. John has been coaching and mentoring artists for the past two years with true & meaningful results. He is encouraging, yet down to business.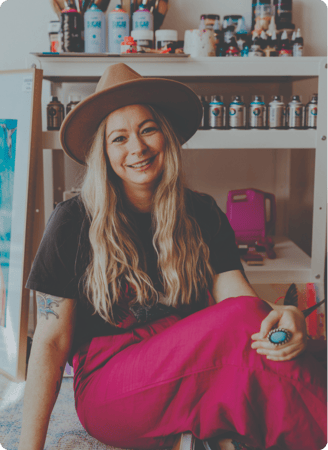 Heylie Morris
Milan Art Mentor
Heylie is a professional artist living & working in Victoria, Australia selling artwork worldwide for 7 years. After completing the program in 2020 she opened up her own studio art gallery in the heart of her hometown. Her work is best described as "Dancing the line between abstract & realism". With a passion for teaching & learning, she wants to help you find your place in the art world & is a firm believer in sharing all her knowledge, tips & tricks along the way!

'I want to help aspiring artists find their true artistic style, voice & authentic self'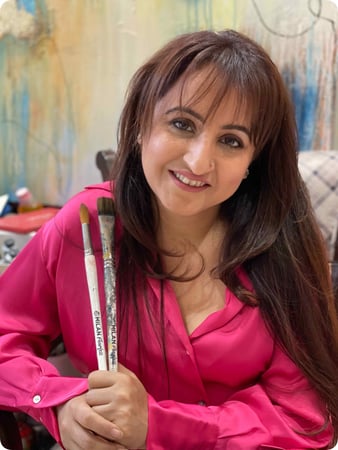 Ritika Aurora
Milan Art Mentor
Ritika Aurora has always been creative and art was her first love . She found herself through her art and redefined what life meant for her . After graduating from the mastery program in 2019 she wanted other women to realize the potential/possibilities life can offer if you are brave enough to work for it . She wants her art to make the viewer feel the strength within themselves and inspire them to reach for their dreams. As a mentor Ritika wants to help her students realize their true potentials and pushes them to experiment and find their unique style and themselves through art.

Heather Bailey
Milan Art Mentor
Heather Bailey is a creative powerhouse. She is a full-time professional artist, a patented inventor, and a mother of three. With an extensive career in surface design and product design since 2000, Heather joined the on-site Mastery Program in 2017 to expand her creative arena into fine-art painting. Heather's enthusiasm for art is contagious. As a mentor, Heather offers thoughtful, precise feedback and well-grounded, real-world advice for building a thriving career in the arts. She is eager to bolster you with love, moral support, and a clear path forward as you embrace this life-changing program, and achieve your dream.

Rachel Doring
Milan Art Mentor
Rachel is a professional artist living and working in Western Australia. She is passionate about transformation and personal growth. Inspiring her students to push beyond the brush, helping them extract the very best of what's inside them. As a former graduate of the Mastery program , Rachel can encourage and support you on your own journey to find your unique style and voice.
"Art to me is the visual voice of the spirit within us. Interrupting the unseen into substance "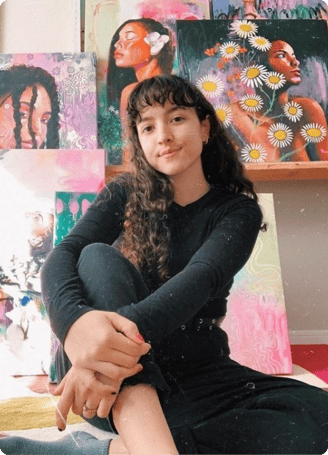 Dafni Milan
Milan Art Mentor
Dafni Milan Lynde has been a mentor for 2 years. She grew up surrounded by artists and has always appreciated the community aspect of being an artist. Dafni is a professional artist herself and has been selling her work for the past 5 years. She values freedom, individuality, and independence, while still believing it is important to grow and learn from one another. With her mentoring, she pushes you to be your best self while allowing you to develop and grow naturally.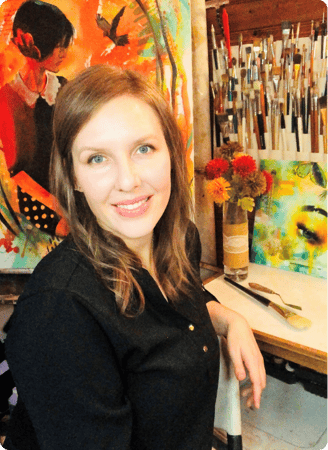 Briana Hume
Milan Art Mentor
A lifelong art-fanatic, Briana has spent years honing her skills and, after graduating the Mastery Program in 2020, has become a full-time professional artist. Briana's artistic style is full of symbolic imagery, combining refined portraiture with abstract elements. She is passionate about connecting with people on an emotional level and inspiring them to pursue their own unique and beautiful visions. She warmly believes that everyone has something incredible to share and only needs to find the courage and dedication in order to be able to share it with the world. Briana deeply enjoys sharing her knowledge with others and firmly believes that anyone with enough passion, diligence and openness can successfully pursue their dreams.

Daree Johnson
Milan Art Mentor
Daree Johnson is a professional artist who graduated from the Milan Art Institute in 2019. She grew up pursuing creativity in every way she could, but ultimately her heart settled on painting as a career. Daree's artwork captures the beauty of the world with dreamy pastels and rainbow colors. She is currently a mentor for the Milan Art Institute where she strives to encourage students to be true to themselves, discover and know their worth, while finding the confidence to share their art with the world.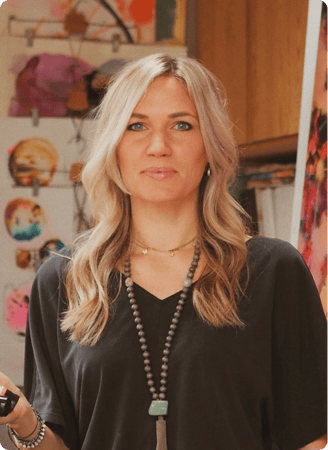 Nicolette van den Hadelkamp
Milan Art Mentor
Nicolette is an artist living in the Netherlands. After some experiences and lessons about love and herself, she felt exhausted from life. Nicolette started elevating herself, giving up everything that weighs her down. That is where she found her way back to art. Nicolette is passionate about expressing her strength, softness, and healing experiences in her art, to inspire others to see their own potential and strength. As a Mentor, she is just as passionate about guiding students on their journey to unveil their potential and purpose in art and life.

Roxanne Bryan
Milan Art Mentor
Roxanne was born and raised in Arizona, a state full of sunshine and warmth with diverse cultures and people. Roxanne has been pursuing art for the last 10 years, and now participates in art shows all throughout the valley. She loves to travel around her home state, country, and even internationally. Currently, Roxanne is mentoring artists through the Milan Art Institute. Roxanne prides herself in being an encouraging, super positive cheerleader to her students.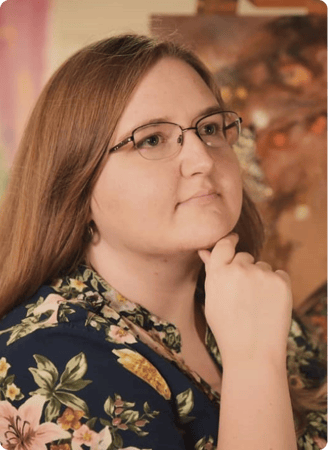 Nicole Powell
Milan Art Mentor
Nicole Powell has been a professional artist for two years, and is eager to share her knowledge and experience with the students of the Milan Art Institute! When she began the program she had no knowledge of painting, and knows what it is like to start from the very beginning. As a Mentor, she focuses on encouragement and information. Her art focuses on showing the beauty that is often overlooked in our natural world.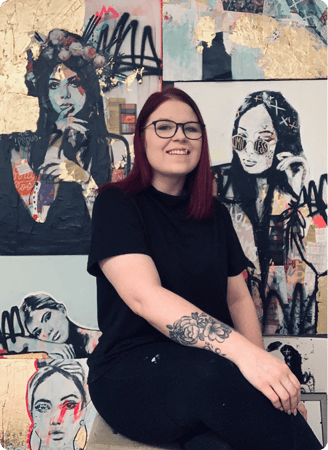 Tanya Aubut
Milan Art Mentor
Tanya is a french-Canadian based artist. From a young age, she was initiated into art and always loved creating. She graduated from the online Mastery Program in December of 2020 and has been a professional artist since then. Tanya's creative process is mainly focused on mixed media techniques. With her work, she wants to make you feel powerful and limitless when it comes to being your true self. As a Mentor, Tanya wants to encourage artists to push their limits and experiment as much as possible to discover their unique voice! She enjoys connecting with people, sharing experiences, and helping them during their life-changing art journey.

Abby Bradford
Milan Art Mentor
Mixed media artist Abby Bradford who graduated from the program in 2019 brings each painting to life with lots of texture, bold brush strokes, and vibrant colors. She lets each painting evolve into what it wants to be letting her imagination take over. Abby is seeking transformation within one's self to go out and change the world, having her collectors feel a sense of empowerment and confidence to be themselves completely.

"As a Mentor, I encourage my students to always be themselves and not be afraid of expressing that through art and to the world. I love giving that extra push when needed and providing helpful tips, feedback, and support."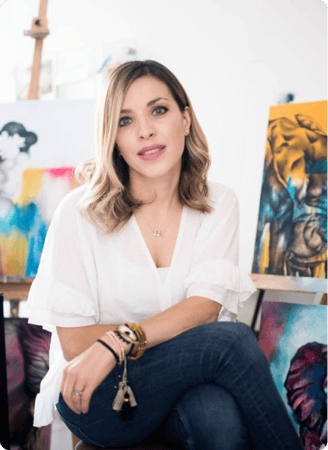 Ceci Wehncke
Milan Art Mentor
Ceci is a professional artist, her art studio is located in Guatemala City.
She loves the opportunity she has to touch Lives through her art, expressing real feelings, and transparency. Ceci graduated from Milan Art institute in 2019.
Being able to support students in their own art journey has been an amazing experience.
"I really enjoy walking by their side and helping them find their unique voice and style."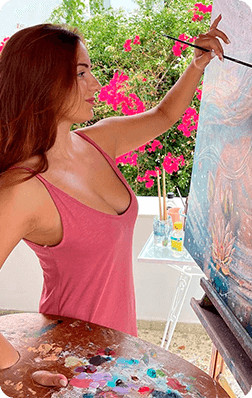 Eva Bratopoulou
Milan Art Mentor
Eva Bratopoulou is a professional artist living and working on Spetses island in Greece.
Her artwork feels mysterious, magical, feminine, and dreamy with a spiritual sense.
In 2019 she graduated from the Milan Art Institute Mastery Program.

She has a growth mindset, she believes in continuous learning and she is seeking nonstop new knowledge and skills that she wants to share with her students.
Since 2011 Eva has participated in 25 collective art exhibitions and has presented 6 solo exhibitions. Collectors from all over the country and abroad have bought her artworks.

"I wish to inspire people to discover their inner truth, to sink into their deepest thoughts and feelings, to say "Yes" to their destiny, and reach their full potential in order to live a life full of wonders. I would be honored to walk this magical Art journey together!"
Frequently Asked Questions
Is the Mastery Program included in Art Club Pro?
No, the Mastery Program is not included in the price of the Art Club Pro subscription. With Art Club Pro you get access to the Group Mentoring, Personal Mentoring and the Art Club Pro Library, which has fantastic courses such as Oil Painting Essentials, Portrait Painting Essentials, Drawing Essentials and more. However, if you want to become a professional artist, the Art Club Pro Library is not a substitute for the Mastery Program.
Is the Mastery Program part of Art Social?
The Mastery Program is now powered by the Art Social Platform, created by its founders at Milan Art.
If I joined the Mastery Program without a Mentor can I get one now?
Yes! If you joined the Mastery Program, you can add (at any stage) group mentoring or personal mentoring by choosing which Art Club package best suits your needs.

If you are already an Art Club member (basic plan at $19 per month), you will need to upgrade your membership to Art Club PLUS or PRO.
I'm not in the Mastery Program, can I still have a Mentor?
Yes! Our Professional Artist Mentors are available to support you in your journey even if you are not a Mastery Student.
I'm a graduate of the Mastery Program, can I still have a Mentor?
Yes! Our Professional Artist Mentors are available to support you in your journey even if you have been through the Mastery Program and graduated!
About Milan Art Institute
Shine Your Art. Change The World.
We are artists. We are professionals, beginners, and hobbyists. We believe that art has the power to change the world so we build tools that empower and bring artists together. Founded in 2008 as The Milan Art Institute, we are now a platform for artists to call home for community, inspiration, and education.