Enhance your creativity, develop new skills, and grow in an artistic community, while experiencing the breathtaking beauty of Rhodes, Greece!
If you want to take your art to the next level, nothing will catapult your progress faster than participating in one of our exclusive art residency programs. On the beautiful, island of Rhodes, you'll be surrounded by beauty and fresh inspiration.
Surrounded by the crystal blue waters of the Aegean Sea, you'll develop new skills, discover new approaches to your work, and connect with other inspiring artists. This unique opportunity will leave you feeling rejuvenated and with a renewed purpose and direction for your art.
A true once-in-a-lifetime opportunity, you won't want to miss!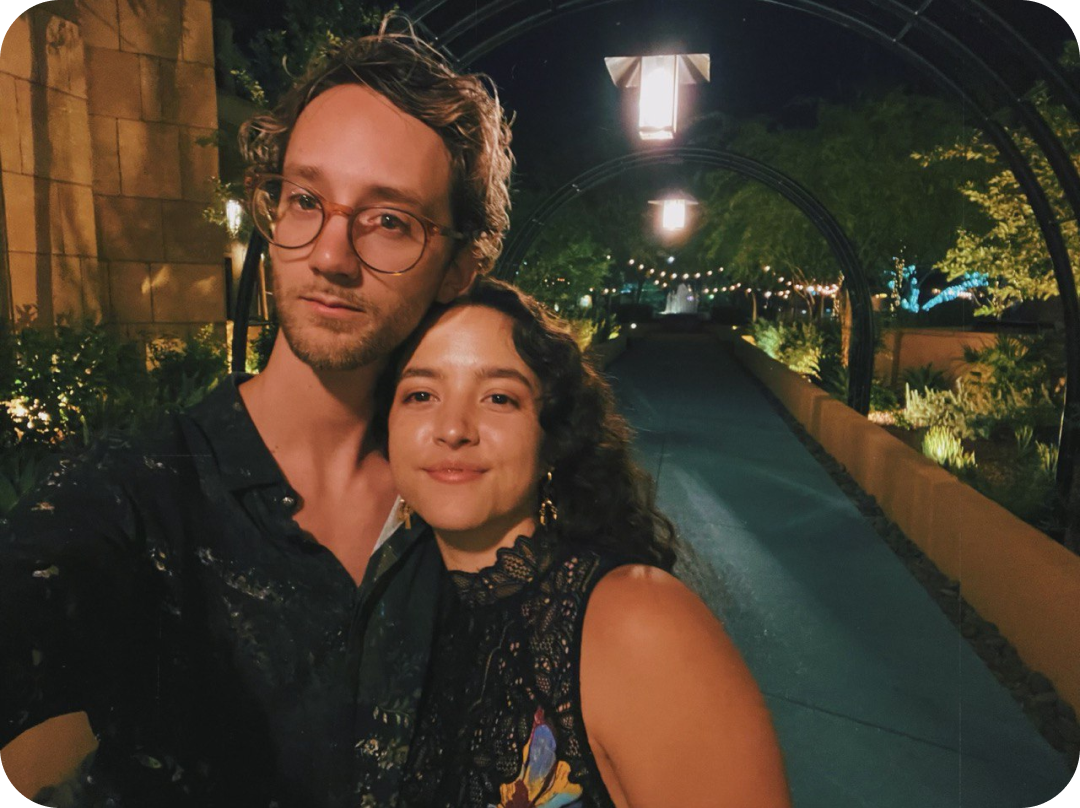 About Your Hosts
Dafni and Nathaniel Lynde are both artists and creatives. Graduates of the Milan Mastery Program in 2016, they fell in love at the 2017 Milan Art Retreat in Greece. Since then, Dafni has been creating and selling her work while also mentoring for MAI. She creates wild and expressive mixed-media paintings that display both peace and chaos and the freedom that comes with that balance.
Nathaniel is an all-around creative. He's an artist, photographer, musician, writer, and carpenter. Currently, they live in Phoenix, Arizona, with their two dogs. They look forward to traveling to Greece to be your hosts for this incredible, once-in-a-lifetime artist residency program.
What You'll Learn
Your instructor, Dafni Milan, will lead your group art classes where she'll share her process as well as many mixed media and oil painting techniques. Some of the techniques you'll cover:
Painting with house paint

Creating a dynamic piece full of patterns - collage, drawing, and painting

Mark making drawing on black paper

Creating forms using color, marks, and pattern
Dafni will share techniques she enjoys, but you'll be encouraged to push your own limits and develop your own style and process. You'll receive individual attention that will help you develop your goals and ideas throughout your residency.
Group critiques offer a unique opportunity to hear feedback on your finished and in-progress artwork.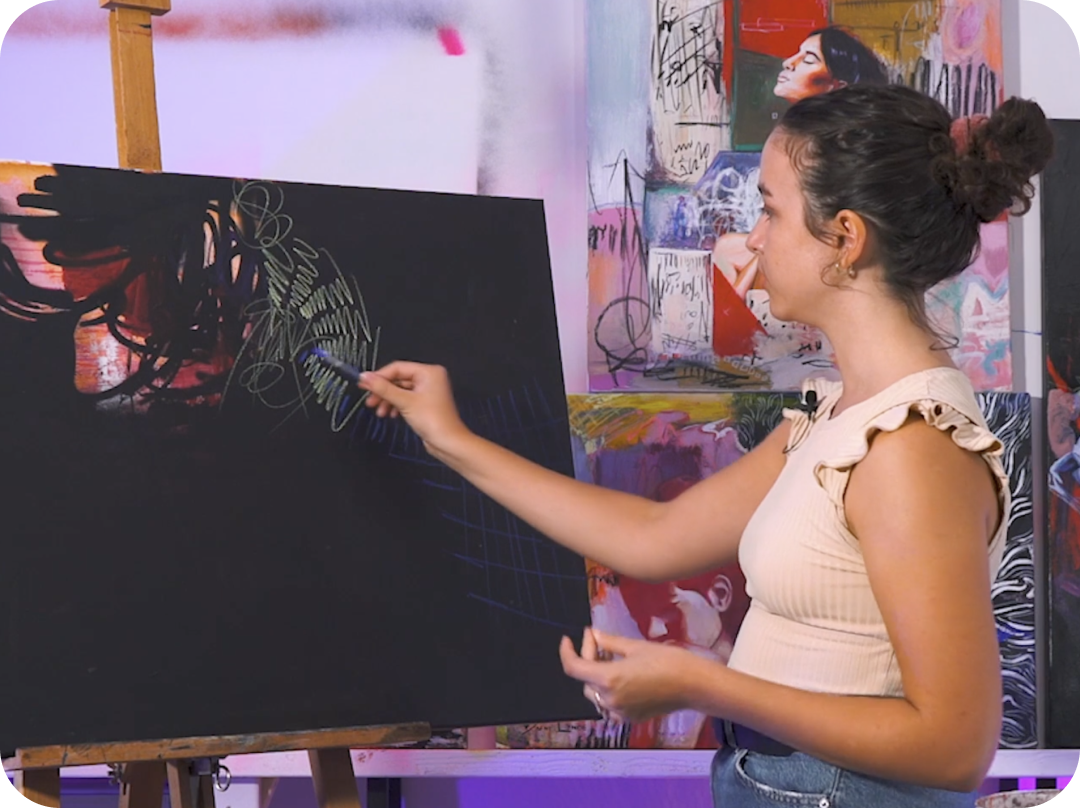 What's Included:
A beautiful apartment at

Aria di Rodi

with a bathroom, kitchen, and group patio garden area

Weekly group mixed media and oil art classes

Weekly group critiques of anything you are working on

One-on-one support from

Dafni

Art show(s) to display what you have created and to connect with potential collectors

Optional excursions around the island and art classes with other creative instructors
Some of the optional creative classes and excursions include, but are not limited to; pottery, traditional drawing and painting techniques from other instructors, plein air painting, wine tasting, hiking, and enjoying the beauty of all the island has to offer.
Artist Residency
Aria di Rodi
The artist in-residency will be held at a beautiful villa,

Aria di Rodi

, in the center of the old town of Rhodes. Each room is uniquely appointed and set up with you, the artist, in mind.
Enjoy the lovely shared patio garden area where you can sip on a cappuccino, and connect with fellow artists. Group classes and critiques will be held in this inspirational setting.
Private apartments, including bathroom, kitchen and studio space.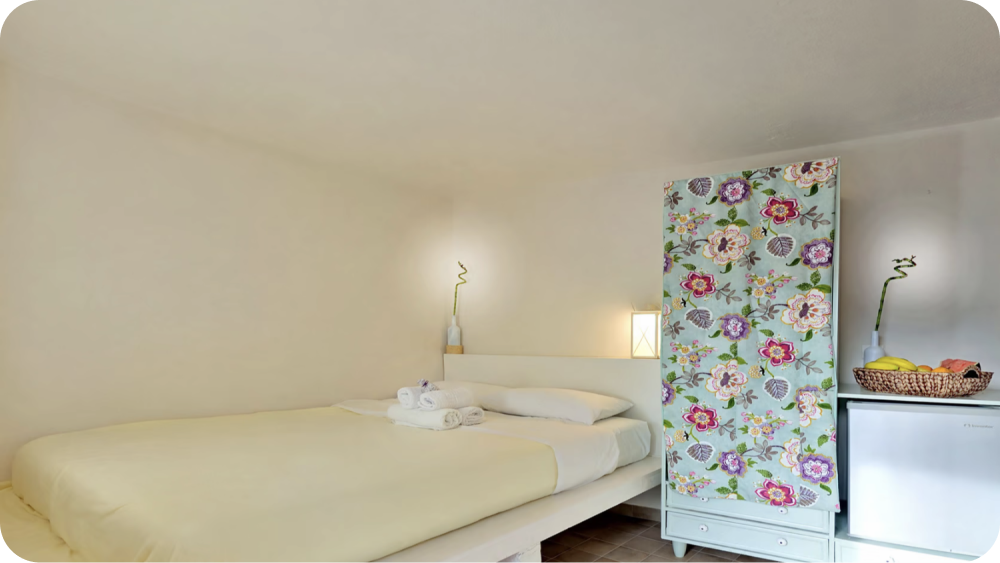 Apartment 1
Private room with queen bed, private bathroom, kitchen, and studio space.
$1800/2 weeks ($3,200/month)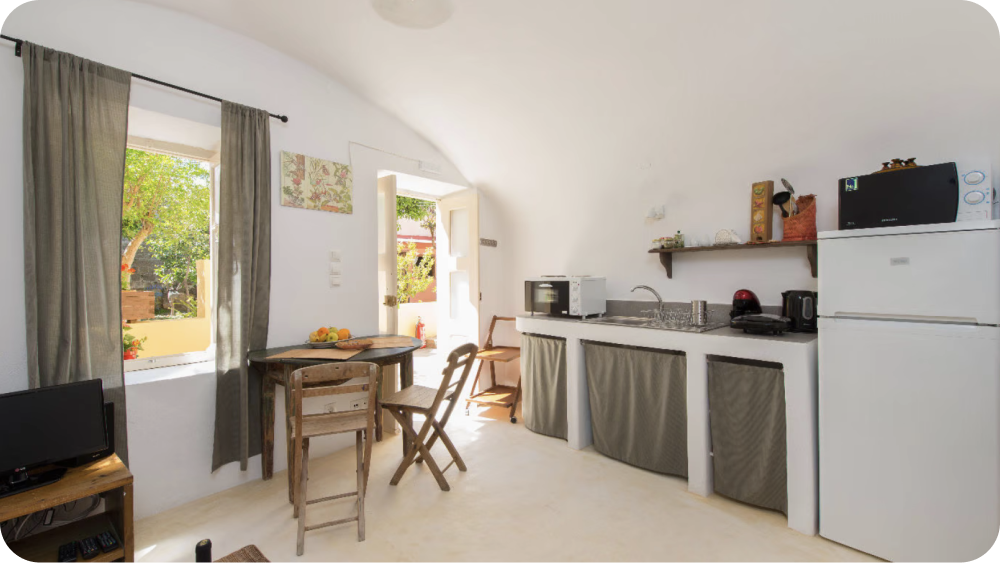 Apartment 2
Private room with queen bed, private bathroom, kitchen, and studio space.
$1800/2 weeks ($3,200/month)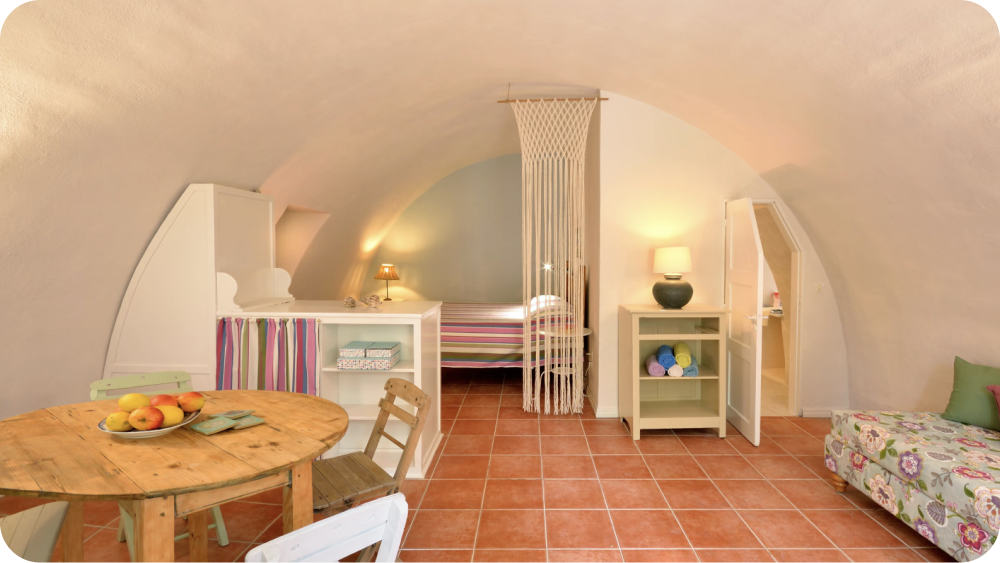 Apartment 3
Shared room (2 guests total) with queen bed, single bed, shared bathroom, kitchen, and studio space.
$1500/2 weeks ($2,700/month)
Main house - two private rooms with studio space; shared bathroom, living area and kitchen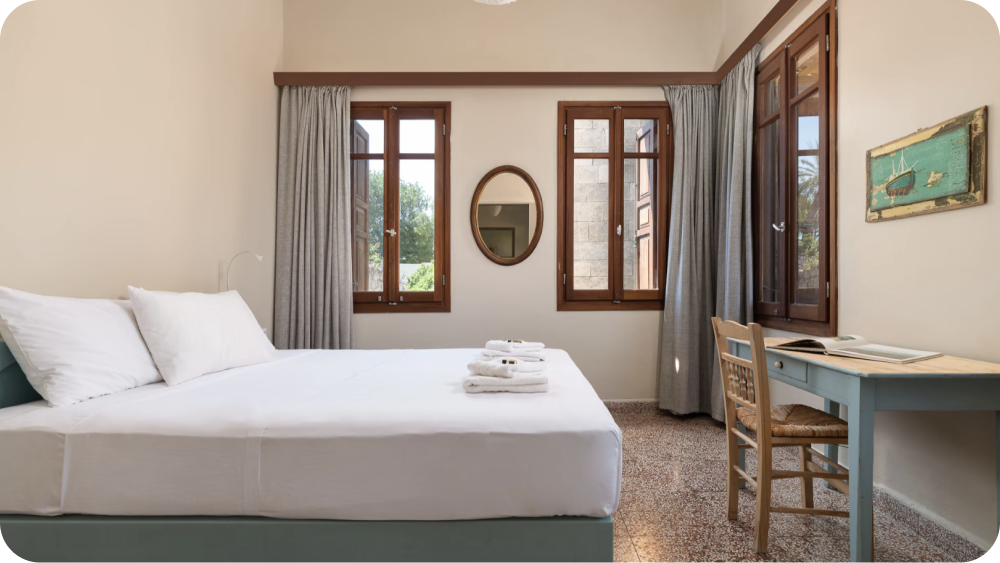 Room 1
Private room with queen bed and studio space. Shared private bathroom, and kitchen.
$1800/2 weeks ($3,200/month)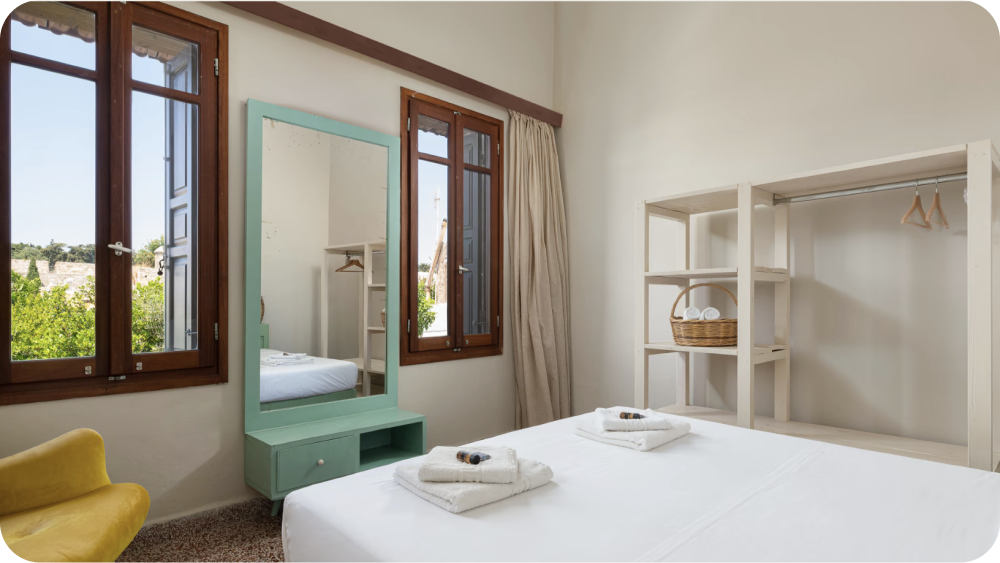 Room 2
Private room with queen bed and studio space. Shared private bathroom, and kitchen.
$1800/2 weeks ($3,200/month)
Frequently Asked Questions
What is it like in Rhodes in the winter?
Rhodes, Greece typically stays between 50 and 65 degrees Fahrenheit. Tourism really slows down in the winter, so you can enjoy the island with the locals. Stores and restaurants are still open, but not as many of the souvenir and tourist shops stay open.
Can I swim in the winter?
It will be cold, but yes you can still go to the beach for a colder swim. Some of the locals enjoy the sea year round, especially on warmer days.
What will meals be like? Can I stick with my special diet?
Rhodes has a lot of variety, so you can still stick with your current diet, whether that is vegan, vegetarian, keto, or gluten free. Traditional Greek food may consist of something you don't include in your diet, but there are many alternatives and health conscious options available.
How many people will be there?
There will be up to 8 artists including the hosts at a time.
Can I have my own room/bathroom?
You can choose between your own room and bathroom, your own room and a shared bathroom, or a shared room and shared bathroom.
What will the studio set up be like?
Each artist will have their own studio set up in their room. The studio will include an easel, table with drawers for art supply storage, palette, sink available, and a chair.
What art supplies do I need to bring?
We recommend that you bring any art supplies that you typically use. Paint, brushes, mixed media materials, canvas, paper, etc. Art supplies will not be included except for group activities/ classes.
Are there any supply stores on the island?
There are a few art supply stores if you need it, but they are limited. We recommend bringing anything you will need.
What kind of canvases should I work on ?
We recommend working on unstretched canvas, paper, and/or small canvases. There are some stores where you can buy small canvases as well.
Can I take my art back with me?
You can ship your art back to your home, or if you paint on unstretched canvas/paper, you can roll it up and bring it home in a tube. If you want to do this, we recommend you buy a tube with a carrying strap to easily bring home on the plane. Also, there will be art shows happening during your stay as well as many other chances to sell your art in Greece, so you might not have to take everything home with you!
You can pay either biweekly or monthly through the website. Either using paypal or credit/debit card.
Contact us
If you have additional questions not covered in the above FAQ's please send us a message.